Sec 1 Parent Engagement and CCA Orientation 2023
Sec 1 Parent Engagement and CCA Orientation 2023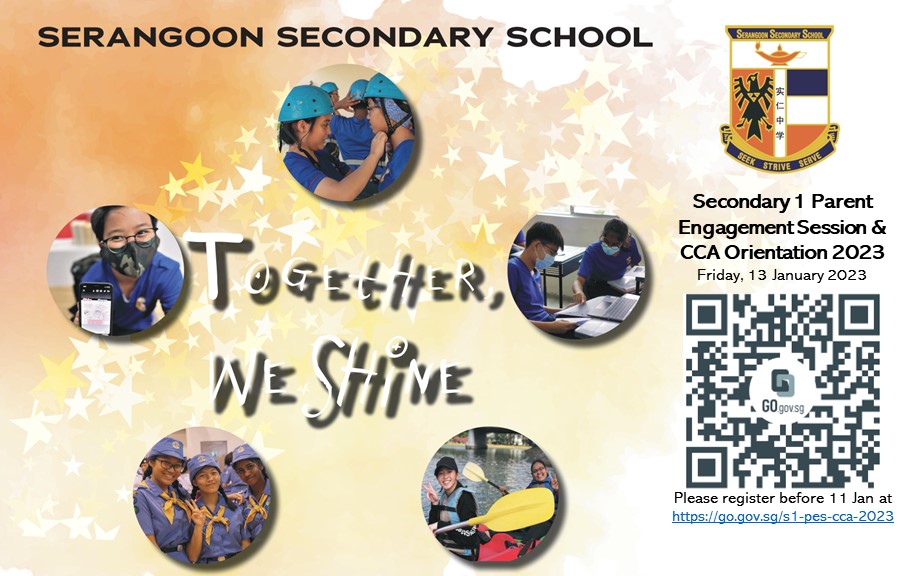 Dear Parents / Guardians,
Thank you for attending the Sec 1 Parent Engagement Session & CCA Orientation 2023.
Please find the video recordings below. You may also download a summary of all the QR code mentioned in the presentations below.
Thank you!
Triple P (Positive Parenting Program)
Mr Halbert Louis, Parenting Counsellor
Methodist Welfare Services
---
Webinar Recording
Opening Address by Principal, Mr Chen Fook Pang
Sec 1 Matters by Year Head/Lower Sec, Mr Tay Ming Yang
CCA & LEAPS Briefing by HOD/PE & CCA, Mdm Goh Sze Wei
Discipline Matters by HOD/Student Management, Ms Ng He Li
After School Engagement by HOD/Educational Support, Ms Sabrina Teo
Parent Support Group by Year Head/Upper Sec, Mdm Cindy Lum
National Digital Literacy Programme (NDLP) Briefing by SH/ICT, Mr Adrial Tan
---
Sec 1 Class Synergy Programme Video Montage
---
Click here to find the compiled list of QR codes mentioned in the presentations in the following document.
---
CCA Selection Exercise
CCAs are a key component of students' holistic education. Through CCA, students discover their interests and talents. As part of the CCA experience, students will also develop their character, learn values, social-emotional competencies, and skills to prepare them for future challenges. CCA is compulsory for all secondary school students.
Click here to find out more about the various CCAs offered by the school and here to find out more about MOE LEAPS 2.0. (Note: hyperlink to CCA homepage and MOE LEAPS 2.0)
Please take note of the following dates regarding the Sec 1 CCA Selection Exercise:
| Event | Dates | Remarks |
| --- | --- | --- |
| CCA Experience | 18, 25, 27 January and 1 February | Students are strongly encouraged to try out different CCAs for selection trials and experience |
| Submission of CCA choices via FormSG | 2 – 3 February | Students are to submit three CCA choices |
| CCA allocation results | 7 February | Students are to start attending their allocated CCAs from 9 Feb |
| Appeal phase | 13 – 14 February | Students are to attend their allocated CCA while waiting for their appeal outcome |
---